Salamini Boscone Aromatizzati, small Italian flavoured salami.
Salamini Boscone Aromatizzati are small Italian gluten and dairy free flavoured salamis, imaginative creations which bring joy to any starter, aperitif, or when watching the match.
DelVecchio Salamini Boscone Aromatizzati are small flavoured salami that feed our feasts and our passions. These small Italian salami make occasions just that bit more special, with their carefully selected meats, flavourings and innovative packaging.
Small Boscone Salami
with black truffle
The subtle aroma of the sophisticated truffle makes this classic Romagnol salami even more delicious.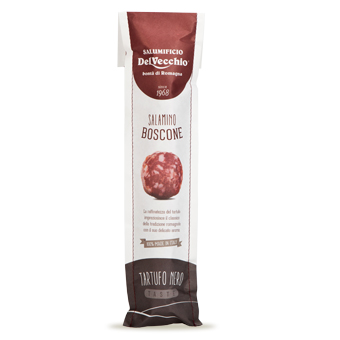 Small Boscone Salami
Sangiovese wine
The intense, spicy fragrance of the red Sangiovese wine gives the salami the unmistakable aroma of Romagna.
Small Boscone Salami
with wild fennel
The slight aftertaste of wild fennel brings out the genuine flavour of the salami.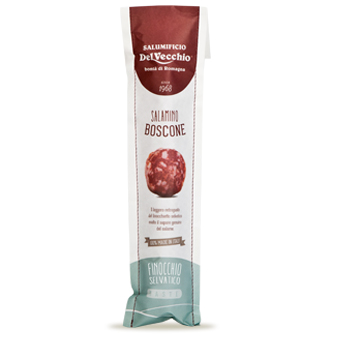 Chilli pepper gives this salami a distinctively hot taste but still allows the homemade flavour of the salami to come through.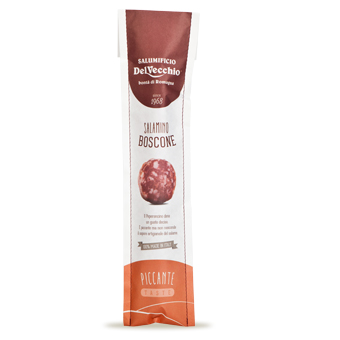 Small Boscone Salami
Classic
This homemade flavoured salami conveys the genuine, no-nonsense character of the people of Romagna.
Salamino Boscone
di Mora Romagnola
A classic DelVecchio product made with delicious Mora Romagnola pork meat. A rich taste for endless pleasure.
Salamino Boscone
al Finocchio Selvatico Bio
The rich wild flavour of fennel for a salami that is prepared traditionally and naturally.
Salamino Boscone
Piccante Bio
The intense, hot, spicy flavour enhances the quality of the meat, for a natural, organic product.
Salamino Boscone
Classico Bio
Only organic meat and top quality for this, the ultimate cured meat product.
Salamino Boscone
Classico Bio
With Omega 3
Mild, tasty and healthy:
the perfect daily snack.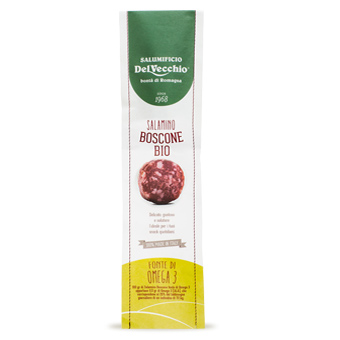 Contact us.
Enter today's world
of age-old flavours.
With DelVecchio, it's better
all round.